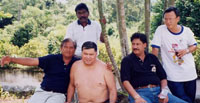 Payment via PayPal:
We have arranged for payment via PayPal for your convenience. Please follow the following instructions.
Go to www.paypal.com
You have to sign up for a PayPal account (at no cost to you) before doing the payment.
You will be asked whose email address to send the payment to. Please use the Seletar Hash House Harriers on-cash, Chinook's, email address at: ashley@lloydhelicopters.com.
Costs:

On or before April 30th 2005: US$ 36
By May 31st 2005: US$ 46.50
From June 1st 2005 onwards: US$ 62

Do not forget to include your hashname/real name/chapter name in the "Description" section when you pay.
Once our on-cash receives the email notification of payment, you will be sent a confirmation of receipt of payment and additional details on the event.
If you have any questions on this, please email Chinook or Nevercome.